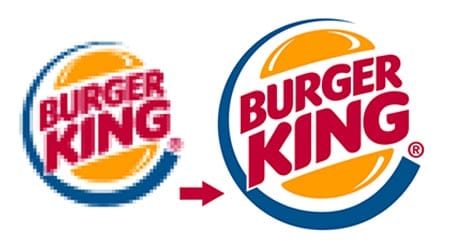 Vector images comprise thin lines and curves which are called paths rooted in mathematical theory. These images can be sized and scaled frequently and limitlessly without having an impact on the quality of the image.
These images can be identified by their edges. They appear smooth even when scaled up or down. A perfect example of such an image is Text. If you increase or decrease the size; you will find no change in its look.
Vector images are file-size efficient. Since these images are identified as mathematical descriptions instead of pixels, these files are smaller than the raster images. This is why such images can be easily transmitted from one computer to another and over the Internet.
However, vector images have a compatibility issue. These are typically saved as native files like Adobe Illustrator which are not available to everyone.
Logos
They are the best choice while working on a logo or illustration. They are pretty flexible to make changes. They can either be used as logos or banners or merchandise.
Photos
Vector images are typically not preferred as photos.
In Use
Since they can be re-sized easily, they are pretty commonly used. Every business prefers these images for this sole reason.
Raster Images
These are called bitmap images since they are made of tiny pixels. These images can easily be identified when looked at very closely. When these images are zoomed in, you can see the square outlines of each pixel.
These images have high dpi and this is why they have large file sizes. This can become a worry if storage space is limited or even when the files are transmitted electronically.
Logos
Raster images should be avoided while working on logos and illustrations. If you need a raster image for a specific project, then it's advisable to create the logo as a vector file and then save copies as raster images.
Photos
While working with photos, raster images are the best. A digital camera or a scanner always creates raster images.
In Use
Typically, raster images are used for digital publication. However, they do not work well in printed projects.