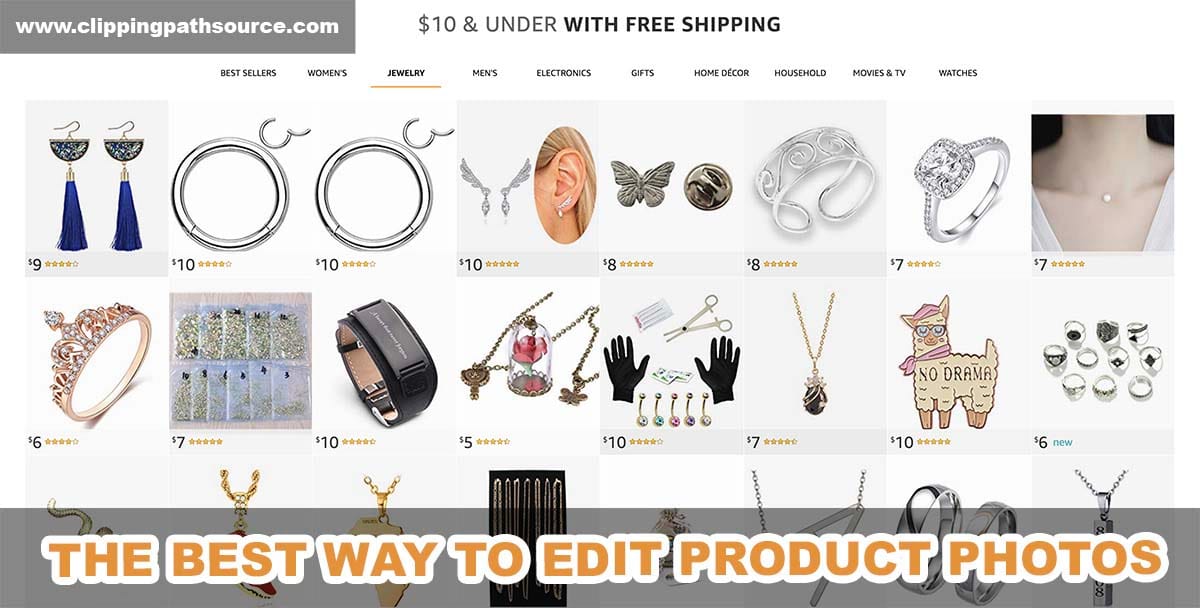 Do you have any idea about the way to edit product photos? As you have all the photography equipment with you, you already know how to set the DSLR aperture. You also have an idea about the kind of photography which you are going to take. Now, what are you going to do after taking your photo?
Editing the product photo:
There are a number of photo editing software as well as applications that you have to need a basic idea about. Earlier, it was almost impossible to judge that software. But in today's world, there are tons of tutorials available on various websites as well as on YouTube.
But the main point here comes is you have to make a basic idea about the final output before editing as well as shooting. You have to visualize the final output. If the photograph is simple, then flay or shots will work the best. This type of photograph will help in making the sites very easier for navigating as well as make the user more user-friendly at the time of browsing. Hence, buy the product after judging the photo.
If you are an owner of an e-commerce business, you have to ensure your customers the quality of the product. You can do this with the help of your product image. Product image is the only thing that will give a perfect impression to the customers. This is because they cannot touch or see the products in real life. It is also very important that the photo that you are going to upload it as clear as possible. To achieve this look, many e-commerce websites spend lots of money on editing the software. This is because editing helps in making a huge difference In the entire look.
The images of the product not only describe the product quality but also works as a door to your e-commerce website.
When customers visit your e-commerce website, they always keep on searching for proof of value as well as the quality of the product. The photographs work as the first impression. So, in this article, we are going to show you tips and tricks for editing a photo. We are also going to show you how to remove the background as well as do color correction.
Background Removal:
Removing Background From Image is the most common editing technique which everyone does in product photography. This is why we always recommend everyone to shoot on a white background. This is because the white background will help in removing the background much easier with the help of photo editing software.
You can perform background removal tasks with the help of editing programs such as Photoshop Preview, Microsoft Paint, PowerPoint, etc. If you can pay $10/month, then you can easily go to Photoshop or Lightroom. If you are a master in Photoshop as well as Lightroom then you are going to achieve your goal in the field of e-commerce business very soon.
Color Correction:
No matter which background you are using, you still have to go for a color correction service. Color correction will help you in giving uniformity as well as helps in giving the photo a perfect color presentation.
Photography Increases Conversions:
Around 90% of the impression comes from the visualization. No matter how much effort you give in designing your website, images always play the main role in the customer's decision making which helps in giving consumer retention. The better the quality of the photo will be, the more your brand image will rise. So this is very important to present professional, polished photos which will help in creating a good amount of engagement rates. Now for getting that polished look, retouching is the only step that you are going to do.
If you are shooting the product with the help of your smartphone, editing is the only thing that you have to do for giving the professional look from a mediocre look.
If you want to go for background removal as well as color correction then the retouching step is the only technique that you can go for. If you want a more natural look, then mannequin removal as well as shadow additional steps you need to follow.
Basically. Photo editing consumes lots of time and effort especially when you are not familiar with these techniques. Nowadays, there are lots of free image editing tools available which help in covering all your photo editing demands.
The following are some of the essential steps that you need to follow to give that perfect polished and professional look to your photo.
Exposure:
Exposure will help in converting the image brighter or darker and that also without losing integrity in the photograph.
Brightness:
Brightness is almost similar to exposure. But this technique often removes the detailing from the photo. So here the editor needs to be cautious enough.
Saturation or Temperature:
Saturation and temperature tools come in handy if the photo is a bit yellow or orange. If you are interested to edit, you can try to change the temperature. But make sure your background remains white no matter how much you edit.
Sharpen/Clarity:
If you want to keep your image in focus then you have to sharpen your image a bit for making it crisp. But make sure you do not overdo this.
Shadows and Highlights:
If you are interested in playing with your image then adding shadows and highlights are the only thing that you can go for. This step will help in removing blemishes and imperfections.
So these are all the simple and easy steps by applying which you can get that professional look in your photo. These steps sound a bit tricky but trust us once you become familiar with this, you are going to achieve success very soon. Images are the only thing that helps in attracting traffic. And a little effort, as well as a small investment, can help you in getting that perfect look in your product photography. Please do not hesitate to contact us if you have any sort of query.