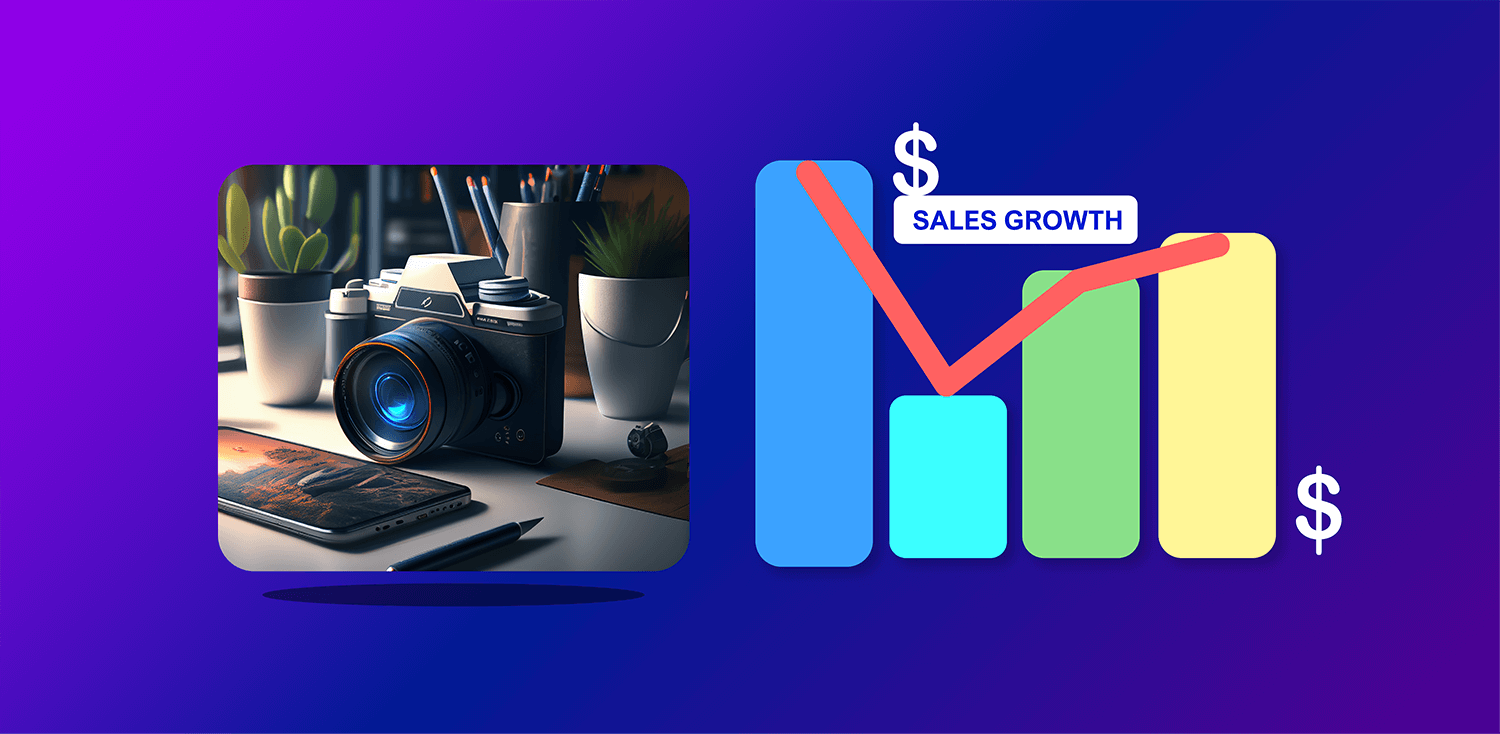 Scaling Your Photography Business: The Art of Effective Outsourcing
Being a professional photographer is more than just capturing stunning images; it's also about running a successful business. As you make the transition to becoming self-employed, the demands on your time and resources can become overwhelming. At some point, you may find yourself turning down clients, compromising on the quality of your work, or getting bogged down by non-creative tasks. This is where outsourcing can be a game-changer.
In the United States alone, the outsourcing industry is worth a staggering $76.9 billion USD, and its advantages for small business owners, including photographers, are undeniable. Outsourcing not only frees up your precious time but also empowers you to focus on growing your business strategically.
Here's a guide on how to effectively outsource work to expand your photography business and reap the maximum benefits:
Benefits of Outsourcing
1. Time Efficiency and Focus on Core Creativity
As a professional photographer, your primary passion and expertise lie in capturing captivating images that tell stories, evoke emotions, and create lasting memories. However, running a successful photography business involves various tasks beyond photography itself. These tasks can be time-consuming and may divert your focus from your core creative work.
This is where outsourcing comes into play. By delegating non-creative and administrative responsibilities to external professionals or agencies, you free up valuable time that can be reinvested into refining your craft and creating exceptional images. The more time you can dedicate to your photography, the better your chances of producing stunning work that sets you apart in a competitive market.
2. Enhanced Image Quality through Specialized Services
The quality of your photography is paramount to your success as a photographer. High-quality images not only attract clients but also command higher prices and customer loyalty. Outsourcing certain aspects of post-production can significantly enhance the quality of your photos.
One of the most common outsourcing tasks in photography is image editing. Professional photo editors possess specialized skills in retouching, color correction, and post-processing. They use advanced software and techniques to refine your images, ensuring they meet the highest standards of excellence. This can involve removing imperfections, adjusting exposure, and enhancing colors to make your photos truly shine.
By outsourcing photo editing, you can consistently deliver impeccable images to your clients, which can lead to higher client satisfaction, referrals, and repeat business.
3. Cost Savings and Financial Efficiency
Operating a photography business involves various expenses, including equipment, studio space, marketing, and more. When considering staffing needs, outsourcing can often be a cost-effective alternative to hiring full-time employees.
Hiring in-house staff comes with additional expenses such as salaries, benefits, office space, and equipment. In contrast, outsourcing allows you to pay only for the specific services you need, without the long-term commitment and overhead costs associated with traditional employment. This cost efficiency can help you maintain a healthy profit margin while providing high-quality services to your clients.
4. Scalability and Adaptability
Photography businesses often experience fluctuations in workload. During peak seasons, you may have an influx of clients and projects, while quieter periods may see a decrease in demand. Outsourcing offers the flexibility to scale your operations up or down as needed.
During busy times, you can outsource additional work to external partners who can handle the increased workload. This ensures that you can meet client deadlines without overextending yourself. Conversely, during slower periods, you can reduce outsourcing to control costs while maintaining the ability to scale up again when demand picks up.
This adaptability allows you to effectively manage your business's workflow and resources, ensuring that you remain agile in response to changing market conditions.
5. Access to Specialized Expertise
Successful photography businesses encompass various aspects, including marketing, web design, search engine optimization (SEO), and client communication. While you may excel in photography, you might not possess the specialized skills or knowledge required to effectively manage these areas.
Outsourcing provides you with access to professionals and agencies with expertise in these domains. For instance, you can hire a digital marketing agency to create and execute targeted advertising campaigns, optimize your website for search engines, and manage your social media presence. These experts can help you build a strong online presence, attract more clients, and elevate your brand visibility.
By leveraging external expertise, you can ensure that your photography business operates efficiently across all aspects, from capturing images to marketing and client engagement.
6. Flexibility in Resource Allocation
Outsourcing offers a high degree of flexibility in how you allocate your resources. You can customize your outsourcing strategy to align with your specific business needs and priorities. This means you can choose which tasks or functions to outsource and how extensively you want to utilize external resources.
For example, you might decide to outsource only certain post-production tasks, like photo retouching service, clipping path service, while retaining creative control over other aspects of editing. Alternatively, you can opt for full-service outsourcing for activities such as client communication and appointment scheduling. This flexibility allows you to strike a balance between maintaining control and optimizing efficiency.
7. Maintaining Quality Control
While outsourcing tasks to external partners can enhance efficiency and expertise, it's crucial to maintain control over the quality of your work. After all, your photography reflects your brand, style, and reputation.
To ensure consistency and quality control:
Provide clear guidelines and expectations to your outsourcing partners.
Establish standards for image editing, communication with clients, and other critical processes.
Regularly review the work produced by your outsourcing team to ensure it aligns with your brand and vision.
Foster open and transparent communication with your outsourcing partners to address any concerns or adjustments promptly.
By striking a balance between delegation and oversight, you can ensure that your photography maintains its high standards.
8. A Competitive Edge
In today's competitive photography market, standing out and offering exceptional services is paramount. Outsourcing can provide you with a competitive edge by enabling you to:
Deliver high-quality work more efficiently, meeting client expectations and deadlines.
Invest in marketing efforts to attract a broader audience and gain a competitive online presence.
Expand your range of services or photography niches to cater to a wider client base.
Collaborate with other professionals, such as makeup artists or stylists, to provide comprehensive photography packages.
Stay up-to-date with industry trends and technology, thanks to the time and resources saved through outsourcing.
These advantages can help you differentiate your photography business and position yourself as a top choice among clients in a crowded market.
9. Risk Mitigation
Every business faces risks and challenges, and photography is no exception. However, outsourcing can help you mitigate certain risks associated with in-house operations.
For example, if an outsourced project doesn't meet your expectations or standards, it is typically easier to address or find an alternative solution compared to dealing with errors made by in-house staff. Outsourcing allows you to pivot and adapt more swiftly, reducing the impact of unforeseen challenges.
10. Work-Life Balance and Well-Being
Finally, one of the most significant benefits of outsourcing for photographers is the potential for achieving a better work-life balance. Photography can be demanding, with long hours spent on shoots, editing, and client communication. This intensity can lead to burnout and negatively impact your overall well-being.
Outsourcing allows you to delegate non-creative and time-consuming tasks, giving you more control over your schedule and reducing stress. With a healthier work-life balance, you can enjoy a more fulfilling personal life while continuing to pursue your passion for photography.
In conclusion, outsourcing is a powerful tool that can help photographers optimize their business operations, enhance the quality of their work, and achieve a better work-life balance. It enables photographers to concentrate on their core creative strengths while benefiting from the efficiency and expertise of external partners. As a result, outsourcing can contribute significantly to the growth and success of a photography business in a competitive and ever-evolving industry.
What to Outsource
Outsourcing is a powerful strategy for freelance photographers to optimize their operations and focus on their core creative work. Knowing what to outsource is crucial for achieving efficiency and growth in your photography business. In this guide, we'll explore key tasks that freelance photographers can consider outsourcing to enhance productivity, streamline processes, and ultimately succeed in a competitive industry.
1. Photo Editing and Retouching:
One of the most common tasks to outsource is photo editing and retouching. Post-processing is a time-consuming process that requires specialized skills and software. Outsourcing this task to professional photo editors allows you to:
Save valuable time: Instead of spending hours editing each photo, you can delegate this work to experts.
Improve image quality: Skilled editors can enhance color, contrast, and sharpness, and remove imperfections, ensuring your photos are at their best.
Maintain consistency: Professional editors can adhere to your style and preferences, creating a uniform look across your portfolio.
2. Website Development and Maintenance:
A professional and user-friendly website is essential for showcasing your portfolio and attracting potential clients. Outsourcing website development and maintenance offers several advantages:
Expertise: Web developers and designers have the skills and knowledge to create a visually appealing and functional website.
Time savings: Instead of learning web development, you can concentrate on photography while experts handle your online presence.
Regular updates: Outsourced professionals can keep your website up to date with fresh content, optimizing its performance and SEO.
3. Marketing and Social Media Management:
Effective marketing is key to growing your photography business. Outsourcing marketing tasks can help you reach a wider audience and enhance your online visibility. Consider outsourcing:
Social media management: A social media expert can curate content, schedule posts, and engage with your audience, boosting your online presence.
Content creation: Outsource blog writing, email marketing campaigns, and social media content to professionals who can create compelling and relevant content.
SEO and digital advertising: SEO specialists and digital marketers can optimize your website for search engines and run targeted advertising campaigns to attract potential clients.
4. Photo Organization and File Management:
As your photography portfolio grows, organizing and managing your image files can become challenging. Outsourcing these tasks can help you maintain order and accessibility:
Image cataloging: Hire professionals to categorize, keyword, and tag your photos for easy retrieval.
Backup and storage management: Ensure your valuable images are securely backed up and stored, preventing data loss.
5. Album Design and Printing:
If you offer photo album services to clients, consider outsourcing the design and printing processes:
Album design: Graphic designers can create stunning album layouts that showcase your work and tell a compelling story.
Printing and fulfillment: Partner with professional printing companies to produce high-quality photo albums and deliver them to clients.
6. Photo Restoration and Colorization:
Offering photo restoration and colorization services can expand your photography business. However, these tasks require specialized skills and software. Outsourcing can help you provide these services efficiently:
Photo restoration: Skilled professionals can restore old, damaged photos to their original quality.
Colorization: Outsource the task of adding color to black and white photos, breathing new life into historical images.
7. Second Photographer and Assistants:
For larger projects or events, outsourcing a second photographer or photography assistants can be beneficial:
Second photographer: Collaborate with another photographer to capture multiple angles and moments during events or photo sessions.
Photography assistants: Hire assistants to help with equipment setup, lighting, and other logistical tasks during shoots.
8. Event Planning and Coordination:
If you specialize in event photography, outsourcing event planning, and coordination can ease your workload:
Event planners: Work with event planners to ensure smooth logistics and coordination during events, allowing you to focus on photography.
9. Customer Service and Reviews:
Managing customer inquiries and reviews is crucial for maintaining a positive reputation and client relationships:
Customer service representatives: Outsource customer service tasks to professionals who can handle inquiries, concerns, and feedback promptly and effectively.
When considering what to outsource, evaluate your strengths and weaknesses, as well as your business goals. Focus on outsourcing tasks that:
Are time-consuming and repetitive.
Require specialized skills or knowledge.
Can be performed more efficiently and cost-effectively by experts.
Allow you to allocate more time to your core photography work and creativity.
By strategically outsourcing tasks that align with your business objectives, you can optimize your efficiency, offer higher-quality services, and position yourself for growth and success as a freelance photographer.
The Strategic Timing of Outsourcing in Photography Business Growth
Outsourcing is a potent strategy that can significantly benefit your photography business, but its effectiveness depends on the timing and circumstances. Knowing when to outsource is pivotal for optimizing your workflow and productivity. Whether you're just starting your photography venture or a seasoned professional, recognizing the signs that indicate it's time to outsource can make a substantial difference in your business's success.
1. Early Stages: Wait for Steady Income
For those embarking on the journey of starting a photography business, Beales advises caution regarding outsourcing. It's essential to establish a steady and substantial income stream before considering outsourcing. In the initial stages, you may need to wear multiple hats and handle various aspects of your business to keep costs down. Waiting until your business generates a consistent income provides a more solid financial foundation for outsourcing expenses.
2. Professional Growth: CEO vs. Employee
As your photography business matures and becomes busier, you'll inevitably reach a point where managing every aspect becomes overwhelming. At this juncture, you face a choice between assuming the role of a CEO or remaining the employee who tries to do everything. This decision profoundly impacts your business's scalability and your ability to focus on what you do best – photography.
Professional photographer Chan emphasizes that your business will eventually outgrow your capacity to handle everything yourself. The pivotal question becomes whether you want to spend your time editing images, handling administrative tasks, or nurturing your creative vision.
3. Signs Indicating the Need to Outsource:
Several signs suggest that it might be time to consider outsourcing tasks in your photography business:
Overwhelm: If you constantly feel overwhelmed by the volume of work and responsibilities, outsourcing can alleviate stress and improve work-life balance.
Client Demands and Workload: When you find it challenging to meet existing client demands or effectively manage your current workload, outsourcing can help you maintain high-quality services.
Administrative Overload: Spending more time on administrative duties than on your core photography work or business development can hinder your growth. Outsourcing administrative tasks can free up your time for more valuable activities.
Loss of Creativity: If you notice a decline in your creative spark or artistic energy due to excessive administrative or non-creative tasks, outsourcing can rekindle your creative passion.
Turning Down New Clients: Refusing new client requests because you're unable to fulfill them due to constraints on your time and resources is a clear indicator that your business has reached a point where expansion through outsourcing is warranted.
In essence, the decision to outsource should be guided by your business's growth stage and your personal capacity. While early-stage photographers should exercise patience and wait for financial stability, established professionals must recognize when they risk spreading themselves too thin. Outsourcing strategically can lead to enhanced efficiency, productivity, and business growth while allowing photographers to focus on what they do best: creating stunning images and fostering client relationships.
Choosing the Right Outsourcing Partner for Your Photography Business
Outsourcing tasks in your photography business can be a game-changer, but the success of outsourcing depends not only on what you delegate but also on whom you entrust with those tasks. Finding the right outsourcing partner involves a combination of assessing their capabilities, trustworthiness, and alignment with your business goals. In this guide, we'll explore the importance of selecting the right outsourcing candidates and the various routes you can take in your outsourcing journey.
1. Capability and Trust: A Balancing Act
Choosing the right outsourcing partner is a delicate balancing act that hinges on both capability and trustworthiness. Here's why these aspects are crucial:
Capability: Your outsourcing partner must possess the skills, expertise, and experience necessary to excel in the tasks you delegate. Their competence directly impacts the quality of the work they deliver.
Trustworthiness: Trust is the foundation of any successful outsourcing relationship. You need to have confidence in your partner's ability to meet deadlines, maintain confidentiality, and adhere to your standards and values.
2. Vet Potential Candidates:
To ensure you're outsourcing to the right individuals or firms, thorough vetting is essential. Follow these steps to make informed decisions:
Seek Expertise: For specialized tasks like cinematography, second photography, or image retouching, prioritize candidates with expertise in their respective fields. Collaborating with professionals who excel in their area of focus ensures high-quality results.
Client Reviews and Testimonials: Read client reviews and testimonials to gain insights into the experiences of others who have worked with the outsourcing candidates. Positive feedback can be a good indicator of reliability and quality.
Previous Work: If possible, request to see samples of their previous work. This allows you to assess the quality and style of their output and determine if it aligns with your expectations.
Contact References: Don't hesitate to ask for references and contact previous clients directly. Speaking with those who have firsthand experience with the outsourcing partner can provide valuable insights into their reliability and professionalism.
Comfort and Compatibility: Assess how comfortable you feel with the outsourcing candidate. A strong rapport and mutual understanding can lead to a more productive and successful collaboration.
3. Leverage Referrals and Networks:
Referrals and personal networks are excellent starting points when searching for trustworthy outsourcing partners. Consider the following sources:
Personal Network: Reach out to colleagues, friends, or acquaintances in the photography industry for recommendations. They may have firsthand knowledge of reputable outsourcing candidates.
Industry Associations: Photography industry associations often have directories or networks of professionals and businesses. Exploring these resources can lead you to qualified outsourcing partners.
Online Communities: Participate in online photography communities, forums, or social media groups. Fellow photographers may share their experiences and recommendations regarding outsourcing partners.
4. Routes to Outsourcing:
There are three primary routes you can take when it comes to outsourcing for your photography business, each with its own set of advantages and considerations:
a. Intern:
Pros: Interns are typically more affordable, eager to learn, and enthusiastic about gaining experience. They offer short-term assistance, requiring less commitment on your part.
Cons: Interns may lack experience, leading to potential unreliability. They might require more hands-on guidance and training than you can provide.
b. Individual Professional:
Pros: Hiring an individual professional, such as a contractor or consultant, offers experience, professionalism, and affordability.
Cons: There is a possibility of unreliability, and top-notch experts tend to be more expensive. Individual professionals may have limited resources, leading to longer turnaround times for large volumes of work.
c. Company:
Pros: Companies provide a large support system, dependability, professionalism, and extensive experience. They tend to be more trustworthy and offer quick turnaround times.
Cons: Companies may cost more than hiring individuals, and their processes may not always be as nimble or as flexible as needed. There is also the risk of not outsourcing to a socially responsible company.
In Conclusion:
Selecting the right outsourcing partner for your photography business requires careful consideration of their capabilities, trustworthiness, and alignment with your goals. Vetting potential candidates, seeking expertise, and leveraging referrals and networks are essential steps in making an informed choice. Additionally, understanding the advantages and drawbacks of outsourcing routes—interns, individual professionals, and companies—enables you to make strategic decisions that benefit your business. Ultimately, a well-chosen outsourcing partner can enhance your efficiency, expand your capabilities, and contribute to the success and growth of your photography business.
Tips for Outsourcing
Outsourcing can be a game-changer for your photography business, provided it's executed with precision and strategy. To ensure that your outsourcing endeavors become an asset rather than a hindrance to your business, follow these essential steps:
1. Comprehensive Vetting:
Vetting is the cornerstone of successful outsourcing. Thoroughly evaluate potential candidates or companies to ascertain their capabilities and alignment with your values:
Capability Check: Scrutinize their skills, experience, and portfolio to verify their competence in handling the task at hand.
Enthusiasm Matters: Look for partners who exhibit genuine enthusiasm and excitement about collaborating with you. Enthusiasm often translates into dedication and a strong work ethic.
Social Responsibility: If considering a company, ensure they adhere to socially responsible practices. Choosing partners with values that mirror your own can lead to a more harmonious working relationship.
2. Effective Communication Strategy:
Successful outsourcing thrives on effective communication. Craft a communication strategy that fosters clarity and mutual understanding:
Consistency Counts: Maintain a consistent line of communication to ensure all parties stay informed and aligned throughout the project.
Directness Is Key: Be forthright and direct in your communication, addressing concerns, expectations, and feedback candidly.
Active Listening: Dedicate time to actively listen to your outsourcing partner's expectations and requirements. Effective communication demands a reciprocal exchange of ideas and insights.
3. Crystal-Clear Expectations:
Setting clear expectations from the outset is paramount to avoid misunderstandings and ensure project success:
Define Editing Style: When outsourcing tasks like photo editing, gain a solid understanding of your editing style or your client's visual preferences. Articulate these preferences clearly to guide the work effectively.
Visual Guidelines: Enhance clarity by offering visual guidelines or examples that illustrate the desired outcome. Visual references can bridge potential gaps in understanding and facilitate smoother collaboration.
4. Align Creative Visions:
The synergy of creative visions is vital for the success of your outsourcing partnerships. Avoid the pitfalls of hiring individuals or firms that don't share your creative ethos:
Shared Beliefs: Prioritize partners who genuinely believe in your photography style and business mission. A shared vision fuels collaboration and leads to cohesive work.
In conclusion, the art of successful outsourcing for your photography business revolves around meticulous vetting, a strategic communication approach, transparent expectation setting, and alignment of creative visions. By implementing these steps, you can harness the full potential of outsourcing while nurturing productive and harmonious relationships with your outsourcing partners.
In addition to this strategic approach, consider outsourcing tasks that consume a significant amount of your time but do not directly generate revenue. By focusing on these areas, you can free up your valuable time to concentrate on revenue-generating activities, elevate your photography business, and ensure it thrives in a competitive industry.
Remember that successful outsourcing involves selecting capable and trusted partners, maintaining clear communication, setting expectations, and aligning creative visions. With the right outsourcing strategy, you can optimize your efficiency, expand your capabilities, and propel your photography business to the next level of success.