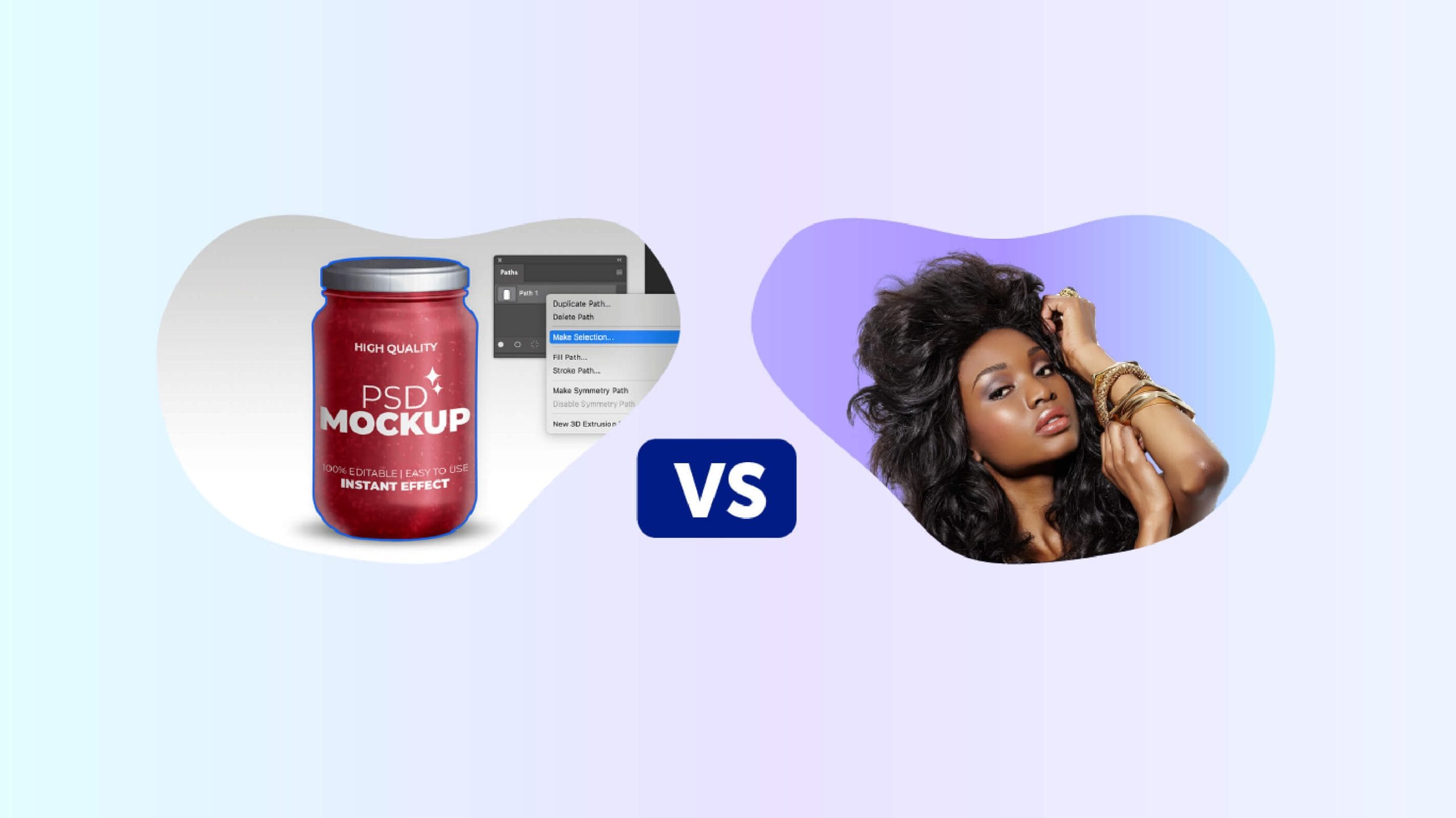 Clipping path and image masking are invaluable image editing techniques designed to separate subjects from their backgrounds. While both serve this purpose, they employ distinct methodologies. To better understand the nuances between clipping path and masking, let's delve into a detailed comparison and explore the specific applications where each of these photo editing techniques excels.
What is a clipping path?
A clipping path is a fundamental technique in the realm of image editing, frequently harnessed for its ability to meticulously separate objects or subjects from their backgrounds. This process is vital in graphic design, e-commerce, product photography, and various other creative and commercial endeavors.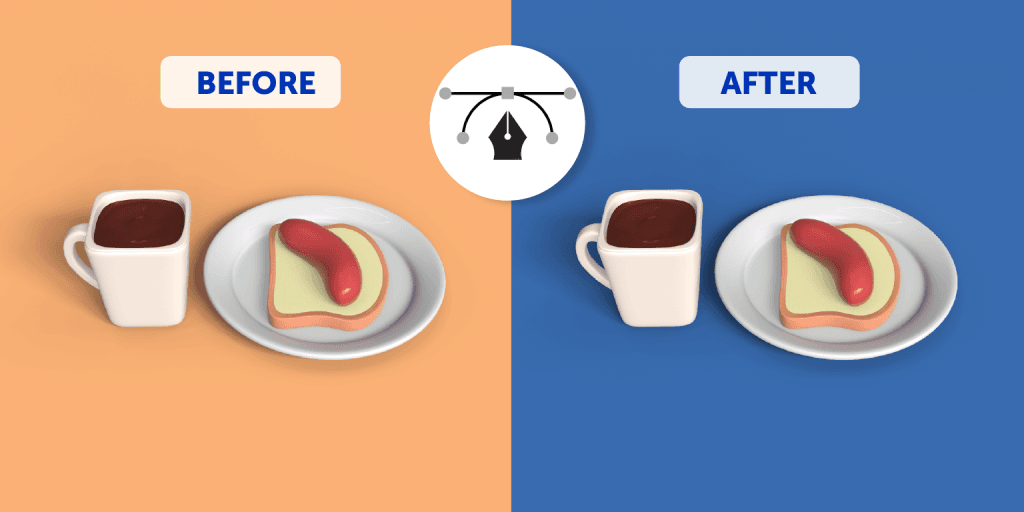 At its core, a clipping path is a precise vector path or outline that is manually drawn around the object or subject one wishes to isolate. This path effectively acts as a mask, concealing everything outside its boundaries while retaining the integrity of the selected element. This results in a clean and defined edge, devoid of any pixelation or soft edges, making it ideal for applications where precision and clarity are paramount.
The process of creating a clipping path typically involves using specialized software, such as Adobe Photoshop or Adobe Illustrator, and employing tools like the Pen Tool to draw the path around the subject. Once the path is meticulously crafted, the background can be deleted or hidden, leaving behind only the isolated object. This newfound flexibility enables designers and photographers to seamlessly integrate the subject into various contexts, whether it's for product catalog images, advertisements, or creative compositions.
Clipping paths are particularly beneficial when working with objects that have well-defined edges, like electronics, jewelry, fashion items, or any product that requires a sharp and polished presentation. Moreover, they offer the advantage of maintaining the original image's quality, as there is no alteration of the pixels within the subject itself.
In summary, a clipping path is a fundamental tool in image editing that empowers professionals to isolate subjects with precision, providing the freedom to place them against different backgrounds or use them independently. This technique's versatility and ability to deliver high-quality results make it an indispensable asset in the toolkit of designers, photographers, and marketers seeking to elevate the visual appeal of their work.
Hand-drawn clipping paths start at 39¢ per image >
Types of clipping paths?
Certainly, here's a brief explanation of single layer clipping path, multi-layer clipping path, and Illustrator clipping path:
Single Layer Clipping Path:



A single-layer clipping path, often referred to as a basic clipping path, is the most straightforward form of isolating an object from its background.

It involves creating a single vector path or outline around the subject with clear and well-defined edges.

This technique is suitable for objects with simple shapes and smooth edges, such as books, mobile phones, or boxes.

Single-layer clipping paths are commonly used in e-commerce product photography to achieve a clean and polished look.

Multi-Layer Clipping Path:



Multi-layer clipping paths, also known as compound or complex clipping paths, are used for subjects with intricate shapes, multiple components, or elements that need individual isolation.

Instead of a single path, multiple vector paths are created, each outlining a specific part or component of the subject.

This technique is valuable for isolating objects like jewelry (where gemstones and settings need separate paths), clothing (with multiple layers or components), or machinery with various intricate parts.

Multi-layer clipping paths allow for precise and independent control over each element within the image.

Illustrator Clipping Path:



Illustrator clipping paths are created using Adobe Illustrator, a vector-based graphic design software, rather than raster-based software like Adobe Photoshop.

In Illustrator, you can use the Pen Tool to create vector paths, and these paths can serve as clipping paths to isolate objects.

Illustrator offers precise control over anchor points and curves, making it a preferred choice for creating intricate and accurate clipping paths.

This technique is commonly employed when the final output needs to be in vector format, such as for logos, illustrations, or designs that may require scalability without loss of quality.
In summary, single-layer clipping paths are used for simple objects with clear edges, multi-layer clipping paths are employed for complex subjects with multiple components, and Illustrator clipping paths are created in vector-based software for precise control and scalability. The choice of which technique to use depends on the complexity of the subject and the specific requirements of the project.
What is image masking?
Image masking is an advanced image editing method employed for precise background removal. With this technique, Photoshop offers an array of tools, including the Background Eraser Tool, Magic Eraser Tool, and color separation techniques, to accomplish this task seamlessly.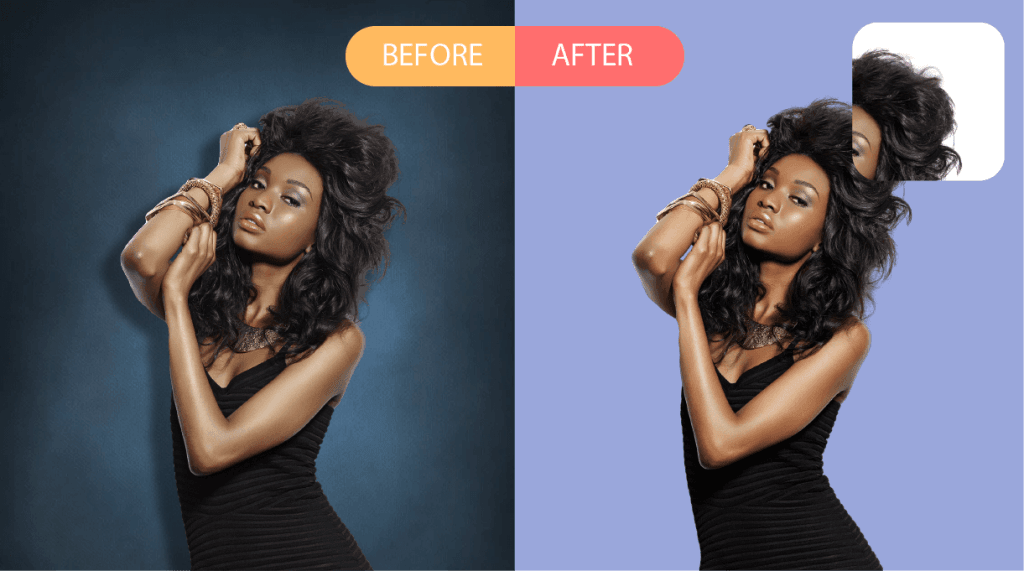 What sets masking apart is its non-destructive nature, allowing selective adjustments to specific image areas while preserving the integrity of the rest. This affords photo editors a heightened degree of control over the application of image adjustments, making it an ideal choice for images with intricate details such as hair, fur, and other complex lines. By utilizing masking, editors can masterfully extract subjects from their backgrounds and craft visually stunning compositions.
Clipping path vs. masking
Distinguishing between clipping path and image masking hinges on the methodology employed to extract the background from an image. In cases where the image complexity escalates, image masking emerges as the preferred choice. While it's technically feasible to apply a clipping path to intricate images, the final outcome often lacks the finesse achieved through image masking.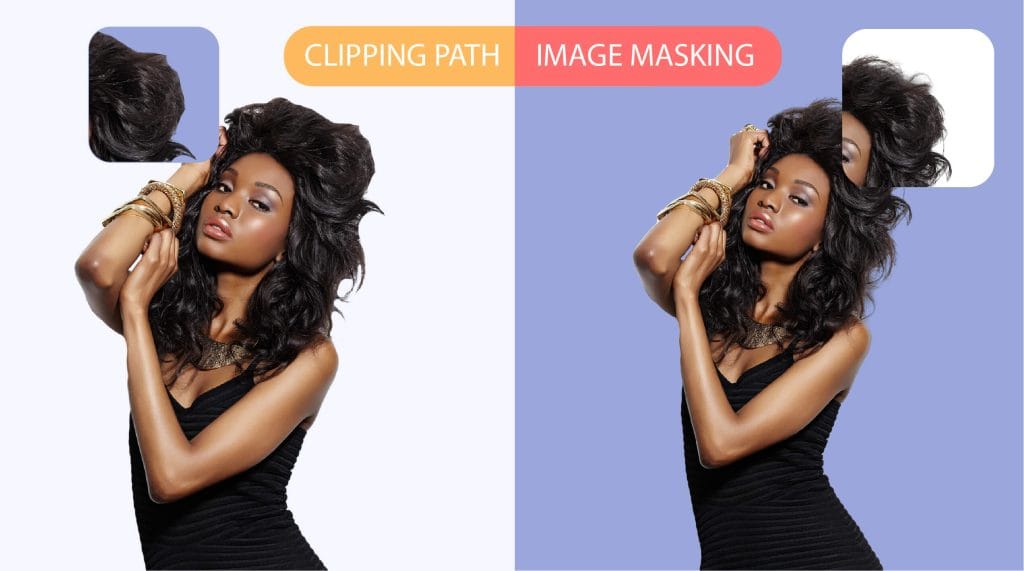 A telling example lies in the comparison of two images. One, edited with a clipping path, exudes an artificial appearance.
The likelihood is that Sigil Scent utilized a clipping path to achieve the desired effect for their perfume bottles, resulting in a clean-cut yet somewhat unnatural outcome. Conversely, the Crown Affair scrunchie image showcases a more natural and seamless outline, most likely achieved through image masking. This discerning choice is evident when observing the image's soft edges and the judicious use of drop shadow.
In certain scenarios, employing both techniques within a single image proves effective. Clipping paths excel at handling sharp, well-defined edges, while masking is ideal for softer, intricate areas. For optimal results, commencing with a clipping path to address the image's robust lines and subsequently applying masking to finesse the softer components is a prudent approach. A prime illustration of this approach can be observed in the editing of the Lovevery play gym, where the toy's sturdy frame benefits from clipping paths, while masking gracefully tends to the supple base material and the baby's hair, harmonizing the overall image composition.
Choosing Between Clipping Path and Masking: A Short Guide
In the realm of background removal, it's crucial to recognize that in the debate of clipping path vs. masking, there's no absolute superiority. Each method serves its unique purpose in the realm of photo retouching, particularly for the diverse array of images essential in the world of e-commerce. Both techniques demand a skilled touch to achieve exceptional results.
If you're in search of top-tier, cost-effective photo editing services, look no further. The Path team specializes in meticulous, manual edits and provides round-the-clock support to cater to your image editing needs.